NumisMedia
Press

News and press releases from members and contributors of NumisMedia detailing specific areas of numismatics for dealers, collectors, and investors of United States Rare Coins





CAC Coins Bring Premiums in April 2019

Contributed by CAC - May 7, 2019

This article/press release has been granted to NumisMedia by a member or contributor, NumisMedia is not responsible for the content.

1887 Liberty Seated Half Dollar MS67 PCGS CAC sold for $20,400 at the Heritage Auctions CSNS U.S. Coins Signature Sale in Schaumburg, Illinois, April 25-28, 2019



In addition to faring well in Internet sales during the month of April, CAC approved coins outperformed other certified coins in a live auction near Chicago. Here are ten examples, which were selected from a large number of results that could have been listed.



1. On April 7, GreatCollections sold a CAC approved VF-25 1815 quarter for $956.25. On January 14, 2019, Heritage sold a PCGS graded VF-25 1815 quarter, without a CAC sticker for $780.

https://www.greatcollections.com/Coin/689736/1815-Capped-Bust-Quarter-PCGS-VF-25-CAC-Toned

https://coins.ha.com/itm/bust-quarters/quarters-and-twenty-cents/1815-25c-vf25-pcgs-pcgs-population-20-139-ngc-census-1-40-mintage-89-235/a/1291-7732.s



2. On April 7, GreatCollections sold a CAC approved Extremely Fine-40 grade 1843 Charlotte Mint $5 gold coin for $3037.50. During July 2018, Heritage auctioned a PCGS graded EF-40 1843-C $5 gold coin, without a CAC sticker for $2160.

https://www.greatcollections.com/Coin/688966/1843-C-Liberty-Gold-Half-Eagle-PCGS-XF-40-CAC

https://coins.ha.com/itm/liberty-half-eagles/half-eagles/1843-c-5-xf40-pcgs-secure-variety-2/a/1277-3994.s



3. On April 14, GreatCollections sold a CAC approved MS-66 grade 'Type One' 1917 quarter with a 'Full Head' designation for $2756.25. On April 28, 2019, Heritage sold a PCGS graded MS-66 'Type One' 1917 quarter with a 'Full Head' designation, without a CAC sticker for $900. On March 16, Heritage sold another, also without a CAC sticker, for $960.

https://www.greatcollections.com/Coin/691712/1917-Standing-Liberty-Quarter-Type-1-PCGS-MS-66-FH-CAC-OGH

https://coins.ha.com/itm/standing-liberty-quarters/1917-25c-type-one-ms66-full-head-pcgs-pcgs-population-555-85-ngc-census-334-62-ms66-mintage-8-740-000/a/1294-7501.s

https://coins.ha.com/itm/standing-liberty-quarters/quarters-and-twenty-cents/1917-25c-type-one-ms66-full-head-pcgs/a/1293-3741.s?ic4=ListView-ShortDescription-071515



4. On April 21, GreatCollections sold a CAC approved MS-65 1931-S dime for $354.38. In January 2019, Heritage sold three PCGS graded 1931-S dimes, none of which had CAC stickers, for $216 each and one for $180.

https://www.greatcollections.com/Coin/688303/1931-S-Mercury-Dime-PCGS-MS-65-CAC

https://coins.ha.com/itm/mercury-dimes/1931-s-10c-ms65-pcgs-gold-shield-pcgs-population-127-88-ngc-census-96-60-cdn-210-whsle-bid-for-problem-free-ngc/a/131905-29268.s

https://coins.ha.com/itm/mercury-dimes/1931-s-10c-ms65-pcgs-secure-pcgs-population-131-89-ngc-census-96-60-cdn-210-whsle-bid-for-problem-free-ngc-pcgs/a/131901-21201.s

https://coins.ha.com/itm/mercury-dimes/1931-s-10c-ms65-pcgs-secure-pcgs-population-131-89-ngc-census-96-60-cdn-210-whsle-bid-for-problem-free-ngc-pcgs-ms65/a/131901-21200.s



5. On April 21, GreatCollections sold a CAC approved MS-66 grade 1930 quarter with a 'Full Head' designation for $1406.25. On February 6, 2019, Stack's-Bowers sold a PCGS graded MS-66 1930 quarter with a 'Full Head' designation without a CAC sticker for $690.

https://www.greatcollections.com/Coin/687577/1930-Standing-Liberty-Quarter-PCGS-MS-66-FH-CAC

https://auctions.stacksbowers.com/lots/view/3-GNP2R



6. On April 25, in Illinois, Heritage auctioned a CAC approved MS-65 1819 half dollar for $19,200. Heritage previously auctioned this exact same coin, with a CAC sticker in June 2017, for $22,325. In August 2017, Heritage auctioned a PCGS graded MS-65 1819 half dollar without a CAC sticker, for $14,100. In May 2017, Legend sold a PCGS graded MS-65 1819 half dollar without a CAC sticker, for $10,500. In January 2017, Heritage auctioned a PCGS graded MS-65+ (higher than 65!) 1819 half dollar, without CAC sticker, for $12,225. The just mentioned CAC approved MS-65 1819 half dollar twice realized much more than any of the non-CAC, certified MS-65 grade 1819 halves that have been auctioned during the last two years.

https://coins.ha.com/itm/bust-half-dollars/1819-50c-o-112-r3-ms65-pcgs/a/1258-3972.s

https://coins.ha.com/itm/a/1256-3654.s

https://legendauctions.hibid.com/lot/31396325/50c-1819-pcgs-ms65/

https://coins.ha.com/itm/a/1251-5653.s



7. On April 25, in Illinois, Heritage auctioned a CAC approved MS-67 1887 half dollar for $20,400. The exact same coin was auctioned by Heritage in October 2015 for $19,975. In between these two appearances of a CAC approved coin, a PCGS graded MS-67 1887 half dollar without a CAC sticker, was auctioned by Heritage for $11,750 in July 2017.

https://coins.ha.com/itm/seated-half-dollars/half-dollars/1887-50c-wb-101-ms67-pcgs-cac/a/1294-3752.s

https://coins.ha.com/itm/a/1257-3107.s



8. On April 25, in Illinois, Heritage auctioned a CAC approved AU-58 1892-S Morgan silver dollar for $19,800. Earlier, Heritage auctioned this exact same coin with the same CAC sticker, for $20,562.50. In January 2019, Legend auctioned a different CAC approved AU-58 1892-S Morgan silver dollar for $18,800. With the exception of a non-CAC, PCGS graded AU-58 1892-S Morgan silver dollar that Stack's-Bowers auctioned in August 2018 for $16,800, PCGS graded AU-58 coins without stickers tend to bring much less than CAC approved AU-58 1892-S Morgan silver dollars. Heritage auctioned PCGS graded AU-58 1892-S Morgans without CAC stickers for $9900 in August 2018 and for $11,400 at the end of April 2018. Legend auctioned a PCGS graded AU-58 1892-S Morgan without a CAC sticker, for $9987.50 in July 2018.

https://coins.ha.com/itm/morgan-dollars/silver-and-related-dollars/1892-s-1-au58-pcgs-cac/a/1294-3788.s?ic4=ListView-ShortDescription-071515

https://coins.ha.com/itm/morgan-dollars/1892-s-1-au58-pcgs-cac/a/1223-4204.s

https://legendauctions.hibid.com/lot/47238157/-1-1892-s-pcgs-au58-cac/

https://auctions.stacksbowers.com/lots/view/3-BIQOK

https://coins.ha.com/itm/morgan-dollars/1892-s-1-au58-pcgs-secure/a/1274-4288.s

https://legendauctions.hibid.com/lot/41550944/-1-1892-s-pcgs-au58?q=1892-S&cat=158&sortOrder=0&ipp=10



9. On April 25, in Illinois, Heritage auctioned a CAC approved MS-61 1844 Charlotte Mint $2.5 gold coin for $18,000. The same coin, in the same holder with the same CAC sticker brought $17,250 in October 2011. In contrast, a PCGS graded MS-61 1844-C $2.5 gold coin without a CAC sticker was auctioned for $9987.50 by Stack's-Bowers in August 2016 and for $11,400 by Heritage in December 2014 when market levels were higher.

https://coins.ha.com/itm/liberty-quarter-eagles/quarter-eagles/1844-c-2-1-2-ms61-pcgs-cac-variety-1/a/1294-3820.

https://auctions.stacksbowers.com/lots/view/3-52B8U

https://coins.ha.com/itm/liberty-quarter-eagles/1844-c-2-1-2-ms61-pcgs-variety-1/a/1212-3721.s?ic16=ViewItem-Inventory-BuyNowFromOwner-PreviousPricesHeritage-081514

https://coins.ha.com/itm/liberty-quarter-eagles/1844-c-2-1-2-ms61-pcgs-cac-variety-1/a/1160-4655.s



10. On April 25, in Illinois, Heritage auctioned a CAC approved MS-65 1907 'No Motto' $10 gold coin for $7200. On January 14, 2019, Heritage auctioned a PCGS graded MS-65 1907 'No Motto' $10 gold coin without a CAC sticker for $5280.

https://coins.ha.com/itm/indian-eagles/eagles/1907-10-no-motto-ms65-pcgs-secure/a/1291-5822.s

https://coins.ha.com/itm/indian-eagles/eagles/1907-10-no-motto-ms65-pcgs-secure/a/1291-5822.s



---
Go to the Press Archive
---
---
Search NumisMedia

Keyword search all of our past and present numismatic articles

Custom Search
---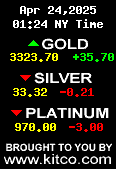 <!iframe src="http://www.coininfo.com/TickerWidgets/Narrow24HourBlack.html" style="border:0px #FFFFFF none;" name="coinInfoNarrow24HourBlackTicker" scrolling="no" frameborder="0" marginheight="0px" marginwidth="0px" height="185px" width="114px"><!/iframe>