Current News and Analysis
of the United States
Rare Coin Market


Metals Bounce Back

October 13, 2014


     Metal prices have rebounded since their recent lows with Gold up $40 in the last week and a half, now hovering at the $1,230 mark. Silver is up to $17.38 and Platinum is higher at $1,261. Dealers and investors are hopeful that a positive two weeks will help the overall market going into one of the last major shows of the year when Whitman hosts the Baltimore Expo at the end of the month. For now, Proof Gold Eagles are trading at $1,430 an ounce in the OGP and Proof Silver Eagles are slightly soft at $48. Bags of VG Silver Dollars are steady at $24,350.

     This past week the PNG Invitational was hosted at the Millennium Broadway Hotel in New York City. This inaugural show had not one but two major auctions to attract dealers, collectors and investors. There is certainly a lot to choose from when the likes of Heritage Auctions and Stack's Bowers Galleries compete for the millions of auction dollars that these experts have to spend. Below we have listed some of the many highlights from these two sales.



1858 $3 Gold PR65 PCGS CAC sold for $94,000 in Heritage Auctions PNG New York Invitational U.S. Coins Signature Auction, October 8-13, 2014

Heritage Auctions

Date/Denomination

Grade
Price
Realized
1872 Two Cent
PCGS MS66 Red CAC
$34,075
1831 Bust Dime
PCGS PR66 Cameo CAC
$70,500
1796 Draped Bust Quarter
PCGS MS64
$164,500
1803 Bust Half Small 3
NGC MS62
$35,250
1836 Reeded Edge Half
PCGS MS64
$38,188
1795 Flowing Hair Dollar Two Leaves
PCGS AU58
$42,594
1895 Morgan Dollar
PCGS PR63
$45,531
1858 $3 Gold
PCGS PR65 CAC
$94,000
1879 $4 Gold Flowing Hair
PCGS PR64 CAC
$165,675
1796/5 $5 Gold Small Eagle
NGC AU55
$45,531
1929 $5 Gold Indian
PCGS MS62
$41,125
1867 $10 Gold
NGC PR64 Cameo CAC
$54,344
1870 CC $20 Gold
PCGS VF30
$188,000
1872 $20 Gold
PCGS PR64 CAC
$135,125
1889 S $20 Gold
NGC MS65
$30,550
1907 $20 Gold High Relief
NGC PR67*
$129,250


Stack's Bowers Galleries

Date/Denomination

Grade
Price
Realized
1794 Large Cent Head of 1794
NGC MS65 BN
$49,938
1875 CC Twenty Cent
NGC MS65
$34,663
1796 Draped Bust Quarter
PCGS XF45
$49,938
1796 Draped Bust Half Dollar 16 Stars
PCGS VF35
$141,000
1874 CC Seated Half
PCGS MS62 CAC
$21,150
1921 Walking Liberty Half
PCGS MS65
$19,975
1803 Draped Bust Dollar
PCGS AU58 CAC
$21,151
1840 Seated Dollar
PCGS PR62 CAC
$18,506
1890 Morgan Dollar
PCGS MS66
$11,163
1855 D $1 Gold
PCGS AU53
$23,500
1861 D $1 Gold
PCGS MS61
$70,500
1911 D $2 ½ Gold Indian
PCGS MS63
$11,163
1875 CC $20 Gold
PCGS MS61
$12,925
1905 S $20 Gold
PCGS MS65
$17,625

     This week's HD Wholesale Market Dealer Price Guide shows numerous declines in the U.S. Gold charts. While Gold is back up in the last few days, the majority of adjustments are lower than the last printed guide. Most common dates in the $2½ Gold series up through $20 Saints are lower in most grades from VF to MS64, and even some MS65 dates have declined.

     On the bright side, the rare dates are steady in most Gold series with some even advancing. The 1861 D $1 Gold is up in MS60 through MS62; The MS62 is now at $68,500 Market. In the $5 Gold series, the 1814/3 in AU55 is higher at $10,500, and in early $10 Gold the 1800 in AU58 has climbed to $22,500. Type I & II $20 Gold coins are still very active at current levels in most grades from XF through all the Mint State grades.



---
Go to the Weekly Market Report Archive
---
---
Search NumisMedia

Keyword search all of our past and present numismatic articles

Custom Search
---
Current News and Analysis of the U.S.
Rare Coin Market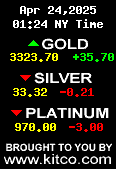 <!iframe src="http://www.coininfo.com/TickerWidgets/Narrow24HourBlack.html" style="border:0px #FFFFFF none;" name="coinInfoNarrow24HourBlackTicker" scrolling="no" frameborder="0" marginheight="0px" marginwidth="0px" height="185px" width="114px"><!/iframe>