Current News and Analysis
of the United States
Rare Coin Market


Gardner Collection: Over $33 Million and Counting

November 3, 2014


     In the aftermath of last week's major downturn in the metals, many Gold and Silver buyers are becoming alarmed about the near term direction. Some feel the metals are searching for new lower base prices and the so-called improved economy may help push prices even lower. Many of us are still having a difficult time recognizing the improvement. Gold is currently trading at $1,167 and Silver is $16.15. One ounce Proof Gold Eagles are wholesaling at $1,352; that is down $78 in one week. Proof Silver Eagles have dropped to $47.

     Last week's Heritage Auctions sale in New York City, Part II of the Eugene H. Gardner Collection resulted in nearly $14 million in prices realized. Combined with the previous sale, Part I of the Gardner Collection, which took place back in June of this year, this collection has now realized over $33 million. There are two more planned sales for this collection to be scheduled in 2015. Below are some of the many highlights from the latest sale of this tremendous collection.



1927 S Full Head Standing Liberty Quarter MS65 PCGS CAC sold for $176,250 in Heritage Auctions Eugene H. Gardner Collection Sale Part II in New York City, October 27, 2014

Heritage Auctions

Date/Denomination

Grade
Price
Realized
1796 Half Cent w/Pole
NGC MS61
$129,250
1801 Half Dime
NGC MS67
$164,500
1871 CC Seated Dime
NGC MS65
$270,250
1874 CC Seated Dime w/Arrows
PCGS MS63
$152,750
1804 Bust Quarter
NGC MS63
$152,750
1823/2 Bust Quarter
NGC MS61 CAC
$188,000
1839 Seated Quarter No Drapery
NGC PR65
$270,250
1842 Seated Quarter Small Date
PCGS PR65
$282,000
1927 S Standing Liberty Quarter
PCGS MS65 FH CAC
$176,250
1796 Draped Bust Half 15 Stars
NGC MS62
$282,000
1853 Seated Half Arrows & Rays
NGC PR65
$117,500
1870 CC Seated Half
PCGS MS62
$129,250
1870 CC Seated Dollar
NGC MS64
$117,500

     Stack's Bowers Galleries hosted the official auction at the Baltimore Whitman Expo this past week and there were numerous rarities to note, especially from the 1853 Collection. The following list includes a variety of these highlights.



1853 Liberty Seated Dollar Restrike PR66 PCGS CAC sold for $105,750 in Stack's Bowers Galleries Winter Baltimore Auction, October 30, 2014

Stack's Bowers Galleries

Date/Denomination

Grade
Price
Realized
1853 Seated Quarter Arrows & Rays
PCGS PR64 CAC
$64,625
1853 O Seated Half No Arrows
PCGS G6 CAC
$246,750
1853 Seated Half Arrows & Rays
PCGS PR64 CAC
$94,000
1853 Seated Dollar
PCGS MS66 CAC
$129,250
1853 Seated Dollar Restrike
PCGS PR66 CAC
$105,750
1853 $5 Gold
PCGS MS65 CAC
$38,188
1853 D $5 Gold
PCGS MS64+ CAC
$70,500
1848 $10 Gold
PCGS MS64 CAC
$64,625
1885 $20 Gold
PCGS MS62
$82,250

     With Gold down about $60 since the last printed HD Price Guide, it is no wonder that the majority of the adjustments this week in the Gold charts are to the downside. Common date $20 Liberty Gold is lower in grades Good all the way up to MS63 where the current Market price is $1,560. Common date Saints are down in all grades from Good through MS66, which is at $2,150 Market. However, there are plenty of better to rare dates still in demand and many show advances. For example, the 1862 S $20 Gold is higher in MS61 at $15,750 and the 1863 in AU55 is up to $14,500.



---
Go to the Weekly Market Report Archive
---
---
Search NumisMedia

Keyword search all of our past and present numismatic articles

Custom Search
---
Current News and Analysis of the U.S.
Rare Coin Market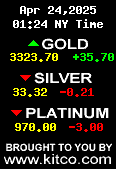 <!iframe src="http://www.coininfo.com/TickerWidgets/Narrow24HourBlack.html" style="border:0px #FFFFFF none;" name="coinInfoNarrow24HourBlackTicker" scrolling="no" frameborder="0" marginheight="0px" marginwidth="0px" height="185px" width="114px"><!/iframe>