Current News and Analysis
of the United States
Rare Coin Market


Rarities Market Thriving, Common Coins Suffering

June 15, 2015


     Over the last couple of months the numismatic industry has witnessed some spectacular auctions which have reshaped the pricing structure of countless rarities; and many of the adjustments have been rather dramatic. The NumisMedia 500 is currently listing numerous coins that have increased 30% or more over the last 30 days.

     The 1822 25 over 50c Bust Quarter in MS65 has jumped to $135,000 Market from the previous $96,500; this is an increase of almost 40%. There are only three coins certified in MS65 with just a single coin graded higher in MS66.

     Another extreme rarity on the rise is the 1798 $2 ½ Gold in MS65; advancing to $425,000 from $300,000, which is up 41.67%. There is only one coin certified in this grade and only 12 coins certified in all lower Mint State grades.

     Below we have listed several other important rarities that have soared in the last month.


 
Date/Denomination
 
Grade
Previous
Market
Current
Market
%
Increased
1794 Flowing Hair Half Dollar
MS64
$350,000
$525,000
+50%
1805 Heraldic Eagle Half Dollar
MS61
$10,500
$15,500
+47.62%
1797 Draped Bust Half 15 Stars
MS66
$950,000
$1,300,000
+36.84%
1807 $2 ½ Gold
MS65
$220,000
$300,000
+36.36%
1821 Capped Bust Quarter
PR67
$110,000
$150,000
+36.36%
1805 $2 ½ Gold
MS63
$55,000
$72,500
+31.82%
1824 Bust Quarter 4 over 2
MS64
$65,000
$85,000
+30.77%
1804 $2 ½ Gold 14 Star Rev.
MS63
$85,000
$110,000
+29.41%
1804 $2 ½ Gold 13 Star Rev.
AU53
$155,000
$200,000
+29.03%
1815 Bust Quarter
MS66
$34,500
$44,500
+28.99%

     Despite the tremendous activity for rarities, the lower end of the coin market is not enjoying the same vivacity. Common coins dated after the 1930's are plentiful and require discounts to sell. In this week's LD Wholesale Market Dealer Price Guide the charts for Lincoln Cents after 1930, Buffalo Nickels and Mercury Dimes are mostly stagnant as dealers are discounting their buy prices. Of course, this will not influence prices unless there are sellers at the lower levels as well. In most cases, sellers are more than willing to keep their holdings rather than take substantially lower prices.

     In the Bust Quarters chart, there are many changes, especially for dates and varieties that have low populations. The 1806 in MS64 is higher at $26,500 Market and the 1807 in MS65 is up to $81,500. Check our price guides (online or LD print) for many other advances in Bust Quarters.



---
Go to the Weekly Market Report Archive
---
---
Search NumisMedia

Keyword search all of our past and present numismatic articles

Custom Search
---
Current News and Analysis of the U.S.
Rare Coin Market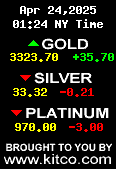 <!iframe src="http://www.coininfo.com/TickerWidgets/Narrow24HourBlack.html" style="border:0px #FFFFFF none;" name="coinInfoNarrow24HourBlackTicker" scrolling="no" frameborder="0" marginheight="0px" marginwidth="0px" height="185px" width="114px"><!/iframe>