Current News and Analysis
of the United States
Rare Coin Market


Auctions Preserving Market Interest

November 2, 2015


     Major auctions continue to lead the way for rarities, establishing new values for some very special coins. This past week Heritage Auctions hosted two sales in New York. First was the final portion of the Gardner Collection, Part IV, which realized $5,883,789, bringing the total of the four sales to well over $52 million. Next, Heritage offered one of their very extensive Signature Sales which bought another $11 million of total of prices realized. The grand total for the two sales was nearly $17 million. With so much going on the block, highlights could be found everywhere.

     Two of the more important coins in the Gardner Sale were Carson City Quarters. Keep in mind that this sale was made of duplicates and upgrades (coins that were left over after Mr. Gardner acquired higher grades), so expectations were not as high as the first three installments. The 1871 CC Seated Quarter in PCGS AU55 sold for $79,313. This is the highest certified AU coin and is also CAC approved. Another Seated Quarter rarity sold was the 1873 CC with Arrows in PCGS AU55 that brought $76,375. This is one of two certified in this grade with none higher in circulated grades. Below are a few more of the top rarities from the Gardner Collection Part IV.



1873 CC Seated Quarter with Arrows PCGS AU55 sold for $76,375 at the Heritage Auctions hosted Eugene H. Gardner Collection Part IV U.S. Coins Signature Auction in New York, October 28, 2015

 
Coin/Denomination
 
Grade
Price
Realized
1812 Large Cent Large Date
NGC MS65 BN CAC
$32,900
1795 Half Dime Flowing Hair
PCGS MS64 CAC
$36,425
1803 Dime Heraldic Eagle
NGC AU58
$56,400
1820 Capped Bust Dime Large 0
PCGS MS65 CAC
$30,550
1820 Capped Bust Quarter
PCGS MS66 CAC
$76,375
1850 Seated Quarter
NGC PR65
$61,688
1795 Flowing Hair Half 2 Leaves
NGC MS61
$37,600
1874 CC Seated Half w/Arrows
PCGS MS64
$38,775
1872 CC Seated Dollar
NGC MS62
$28,200
1911 D $2 ½ Gold Indian
PCGS MS64+ CAC
$25,850
1914 D $2 ½ Gold Indian
PCGS MS65 CAC
$35,250

     The second Heritage sale contained thousands of lots with many exceptional rarities finding new homes. For Barber Half Dollar collectors, there was a superb selection of various dates in extremely high grades. One of the highlights of this session was the 1901 O in PCGS MS67+ that sold for $64,625. This is the single finest coin of this date and is one of the rarest dates in the highest grade of this series. Another premium quality coin from this series was the 1906 D in PCGS MS67 CAC which brought $39,950. This coin is also the finest known for the date. The following list contains some of the many other highlights from the Heritage Signature Sale.



1901 O Barber Half Dollar PCGS MS67+ sold for $64,625 at the Heritage Auctions hosted U.S. Coins Signature Auction in New York, October 29 - November 1, 2015

 
Coin/Denomination
 
Grade
Price
Realized
1886 Liberty Nickel
PCGS MS66+ CAC
$28,200
1822 Capped Bust Dime
NGC MS64
$29,375
1916 Standing Liberty Quarter
PCGS MS66 FH
$39,950
1795 Flowing Hair Half 2 Leaves
PCGS MS62
$48,175
1927 S Walking Liberty Half
PCGS MS66 CAC
$35,250
1795 Flowing Hair Dollar 3 Leaves
PCGS AU58 CAC
$39,958
1867 Seated Dollar
PCGS MS65
$47,588
1807 $2 ½ Gold Capped Bust
NGC MS62
$31,725
1900 $2 ½ Gold
PCGS PR68+ DCam CAC
$56,400
1795 $5 Gold Small Eagle
NGC MS61
$64,625
1929 $5 Gold Indian
NGC AU53
$24,675
1797 $10 Gold Heraldic Eagle
PCGS MS61
$42,888
1907 $10 Gold Indian Wire Rim
PCGS MS65
$67,563
1911 $10 Gold Indian
PCGS MS67 CAC
$61,688
1885 CC $20 Gold
NGC MS62
$58,750
1907 $20 Saint HR Wire Rim
NGC MS66 CAC
$71,675

     Please contact Heritage Auctions for complete list of prices realized for both sales.



---
Go to the Weekly Market Report Archive
---
---
Search NumisMedia

Keyword search all of our past and present numismatic articles

Custom Search
---
Current News and Analysis of the U.S.
Rare Coin Market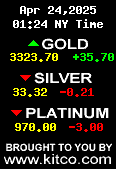 <!iframe src="http://www.coininfo.com/TickerWidgets/Narrow24HourBlack.html" style="border:0px #FFFFFF none;" name="coinInfoNarrow24HourBlackTicker" scrolling="no" frameborder="0" marginheight="0px" marginwidth="0px" height="185px" width="114px"><!/iframe>