Current News and Analysis
of the United States
Rare Coin Market


Gold Higher as Long Beach Begins

February 1, 2016


     The first Long Beach Expo of the year is upon us and the official auction will be hosted once again by Heritage Auctions. One of the leading rarities in this sale will be a 1943 S Lincoln Cent struck on a bronze planchet; this coin is PCGS AU58 and is approved by CAC. A like coin from the Philadelphia Mint sold at FUN for $305,500.



1943 S Lincoln Cent 'Struck on a Bronze Planchet' PCGS AU58 CAC is available at the Heritage Auctions Long Beach U.S. Coins Signature Auction in Long Beach, California, February 4-7, 2016



     Also included in this sale is an 1839 Seated Half Dollar with No Drapery; this is an NGC PR62 and has a current Market value of $72,500. This is an extremely rare issue that is not available on the market very often. There are only 7 coins total in Proof certified by PCGS and NGC with the highest being PR65. Below are some of the other interesting rarities in this sale.



1839 Seated Half Dollar No Drapery NGC PR62 is available at the Heritage Auctions Long Beach U.S. Coins Signature Auction in Long Beach, California, February 4-7, 2016

 
Date/Denomination
 
Grade
Current
Market
1794 Large Cent Head of 1795
PCGS MS64+ Bn
$26,500
1916 D Lincoln Cent
PCGS MS67 Red
N/A
1838 O Seated Half Dime No Stars
PCGS MS66+ CAC
$41,500
1796 Draped Bust Dime
NGC MS65
$71,500
1844 Seated Dime
PCGS MS66 CAC
$36,500
1855 O Seated Quarter Arrows
NGC MS67 CAC
$62,500
1918/7 S Standing Lib Quarter
PCGS MS62
$20,000
1795 Flowing Hair Dollar Two Leaves
NGC MS63
$157,500
1857 Seated Dollar
NGC MS66
$75,500
1876 $1 Gold
PCGS MS66+ CAC
$10,500
1876 $3 Gold
PCGS PR64 Deep Cameo
$71,500
1909 $5 Gold Indian
PCGS PR67+ CAC
$73,500
1876 $10 Gold
PCGS AU58 CAC
$41,500
1911 $10 Gold Indian
NGC MS68
$77,500
1931 $20 Gold St. Gaudens
PCGS MS64
$73,750

     Even with rare coins the main focus in this upcoming auction by Heritage and the following week by Stack's Bowers Galleries and Sotheby's in New York for the D. Brent Pogue Collection Part III (more on the Pogue Sale in the February Monthly Article), dealers are still trading heavily in modern bullion coins. Seventy-five percent of the traffic on the teletypes is based on bullion trading as dealers are scrambling to locate specific items for their customers.

     With Gold just over $1,125 this morning, demand appears to be on the rise as well. Proof Gold Eagles are very strong with dealers willing to pay at least $1,360 an ounce in the OGP. We have seen an increase in the number of dealers participating in this market over the last few weeks. One ounce Proof Silver Eagles are a little higher, now at $47- $48 each in OGP.

     Many of the adjustments in this week's LD Wholesale Market Dealer Price Guide are to the downside as sellers outnumber buyers in the marketplace. As we enter the second month of the year dealers are still trying to raise cash by selling old inventory. This is good for buyers looking for specific coins but it paints a picture of weakness that tends to chase off other buyers. As we all know the coin market is cyclical and declines are part of the business.

     One area that seems to be price resistant right now is in MS64 and MS65 Flying Eagle Cents chart. Many of these dates had flourished over the last 5-7 years and now there are more on the market than the current buyers can handle. This becomes evident when there are multiple coins of the same date and grade in a single auction; one coin may thrive while the others receive much weaker bids.

     One series that seems to be doing rather well is Mercury Dimes. While there are not a lot of increases, they appear to be steady at current levels. This is especially the case for the Full Band Mercury Dimes. The 1916 D in MS65 FB is higher at $37,500 Market and the 1917 D in the same grade is up to $4,450. The 1919 S in MS65 FB rose to $13,750 and the 1925 D in MS66 FB advanced to $5,750. Please check the Full Band Mercury Dime charts for other changes this week.



---
Go to the Weekly Market Report Archive
---
---
Search NumisMedia

Keyword search all of our past and present numismatic articles

Custom Search
---
Current News and Analysis of the U.S.
Rare Coin Market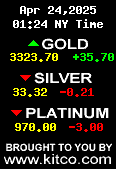 <!iframe src="http://www.coininfo.com/TickerWidgets/Narrow24HourBlack.html" style="border:0px #FFFFFF none;" name="coinInfoNarrow24HourBlackTicker" scrolling="no" frameborder="0" marginheight="0px" marginwidth="0px" height="185px" width="114px"><!/iframe>