Current News and Analysis
of the United States
Rare Coin Market


Extended Stay in So Cal Starts with the Pre-ANA Show

August 1, 2016


     The ANA World's Fair of Money begins next week in Anaheim, but just prior to the year's biggest show is the PNG/ANA Numismatic Trade Show at the same location, running August 6-8. Many dealers will enjoy an extended stay in Southern California as they will have bourse tables at both shows.

     The metals have gained some strength over the past few days with Gold now above the $1,350 mark. Silver is once again at $20.50 and Platinum has been on the rise for the last few weeks, now at $1,154. One ounce $50 Proof Gold Eagles in the original government package are trading at $1,530 and Proof Silver Eagles are at $50 each.

     The ANA Show has two official auctions with Heritage Auctions and Stack's Bowers Galleries hosting separate events. Last week we featured potential highlights for the Heritage Auctions Sale, this week we will concentrate on the Stack's Bowers Galleries Auction. One highlight of the Rarities Night Sale will be the 1839 Liberty Seated Half Dollar No Drapery in PCGS PR64. This is an extremely rare date and there are only a total of eight coins certified in PR62 through PR65 with just a single coin in PR65. The current Market is $155,000. Below are some of the other highlights from this sale.



1839 Liberty Seated Half Dollar No Drapery PCGS PR64 is available at the Stack's Bowers Galleries ANA World's Fair of Money Official Auction in Anaheim, California, July 9-12 2016

 
Date/Denomination
 
Grade
Current
Market
1793 Chain Cent AMERI.
PCGS F12
$22,500
1824/2 Large Cent
PCGS MS63 BN CAC
$15,750
1880 Shield Nickel
PCGS MS66
$97,500
1918/7 D Buffalo Nickel
PCGS MS64+ CAC
$63,500
1796 Draped Bust Dime
PCGS MS63 CAC
$27,500
1837 Liberty Seated Dime No Stars
PCGS PR65 CAC
$29,750
1871 CC Liberty Seated Dime
PCGS AU50
$17,250
1796 Draped Bust Quarter
NGC MS63
$100,000
1853/4 Liberty Seated Quarter A/R
NGC MS65
$40,000
1871 CC Liberty Seated Quarter
PCGS VF35
$15,750
1918/7 S Standing Liberty Quarter
PCGS MS64 FH
$120,000
1795 Flowing Hair Half Two Leaves
PCGS MS63+
$94,500
1797 Draped Bust Half 15 Stars
NGC F12
$56,000
1870 CC Liberty Seated Half
PCGS AU50
$22,250
1874 Liberty Seated Half Arrows
PCGS PR68
N/A
1795 Flowing Hair Dollar Three Leaves
PCGS MS63
$140,000
1875 $2 ½ Gold
PCGS PR65 CAC
$44,500
1864 $3 Gold
PCGS MS65 CAC
$37,250
1879 $4 Gold Flowing Hair
PCGS PR63
$140,000
1873 $5 Gold Closed 3
PCGS PR65 DCam CAC
$65,500
1795 $10 Gold Capped Bust 13 Leaves
PCGS AU55
$62,500
1798/7 $10 Gold Capped Bust 7x6 Stars
PCGS AU58
$190,000
1799 $10 Gold Capped Bust
PCGS MS65
$275,000
1804 $10 Gold Crosslet 4
PCGS MS64 CAC
$225,000
1907 $10 Gold Indian Wire Rim
PCGS MS65 CAC
$64,500
1860 $20 Gold Liberty
PCGS MS65 CAC
$65,000
1898 $20 Gold Liberty
PCGS PR65+ DCam CAC
$98,500
1912 $20 Gold Saint Gaudens
PCGS PR65 CAC
$67,500
---
Go to the Weekly Market Report Archive
---
---
Search NumisMedia

Keyword search all of our past and present numismatic articles

Custom Search
---
Current News and Analysis of the U.S.
Rare Coin Market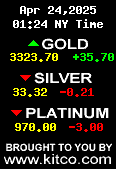 <!iframe src="http://www.coininfo.com/TickerWidgets/Narrow24HourBlack.html" style="border:0px #FFFFFF none;" name="coinInfoNarrow24HourBlackTicker" scrolling="no" frameborder="0" marginheight="0px" marginwidth="0px" height="185px" width="114px"><!/iframe>