Current News and Analysis
of the United States
Rare Coin Market


Prices Rising for Better Date Bust Type

June 26, 2017


     Stack's Bowers Galleries hosted the official auction for the just completed Whitman Baltimore Expo. For Indian and Lincoln Cent collectors there was a long list of high-grade better dates that should improve some Registry collections. Many of these cents are CAC approved. There was also quite a few Mint State Barber Dimes and Quarters for the set collectors.

     A coin once part of the Queller Family Collection, the 1801 Draped Bust Half Dollar in PCGS MS60 brought $70,500. This is the only MS60 certified by either service and there are only four certified in higher grades with MS64 the highest.



1801 Draped Bust Half Dollar PCGS MS60 sold for $70,500 by Stack's Bowers Galleries at the Whitman Baltimore Expo in Baltimore, Maryland, June 21-23, 2017



     The 1793 Chain Cent AMERICA without Periods in PCGS AU53 sold for $79,312.50; there are eleven certified in this grade. Below are some other highlights from this sale.


 
Date/Denomination
 
Grade
Price
Realized
1803 Draped Bust Half Cent
PCGS AU58+ CAC
$49,350
1909 S Lincoln Cent
PCGS MS66 Red CAC
$7,638
1918 D Lincoln Cent
PCGS MS65 Red CAC
$15,275
1864 Two Cent Small Motto
PCGS PR65 BN
$54,050
1795 Flowing Hair Half Dime
PCGS MS64
$21,150
1796 Draped Bust Dime
PCGS MS63
$35,250
1895 O Barber Dime
PCGS MS64+
$17,625
1916 D Mercury Dime
PCGS MS65+ FB CAC
$58,750
1877 Twenty Cent
NGC PR63
$21,150
1796 Draped Bust Quarter
PCGS XF40
$42,300
1805 Draped Bust Quarter
PCGS MS62+
$18,213
1806 Draped Bust Quarter
PCGS MS64+ CAC
$58,750
1897 O Barber Quarter
PCGS MS66 CAC
$14,100
1901 S Barber Quarter
PCGS MS63
$43,475
1902 O Barber Quarter
PCGS MS66+ CAC
$25,850
1913 S Barber Quarter
PCGS MS63+
$21,150
1919 D Walking Liberty Half
NGC MS63 CAC
$24,675
1920 S Walking Liberty Half
PCGS MS65
$21,150
1866 Seated Dollar
PCGS MS64 CAC
$22,325
1861 $3 Gold
PCGS MS65
$25,850
1811 $5 Gold Capped Bust
PCGS MS62+ CAC
$25,850
1842 C $5 Gold Small Date
NGC AU58
$30,550
1910 $5 Gold Indian
PCGS PR63
$28,200
1799 $10 Gold Capped Bust
PCGS AU55 CAC
$30,550
1911 S $10 Gold Indian
PCGS MS65
$22,325
1852 O $20 Gold
NGC MS61
$32,900
1881 $20 Gold
PCGS AU58
$88,125

     Dealers remain in discount mode for most common coins and premiums continue to drop on generic U.S. Gold coins. With metals down the last couple of weeks there does not seem to be a turnaround coming any time soon; Gold is currently down to $1,245.50 and Silver is $16.55; Platinum is $916.90.

     Most common coins are being discounted but there are many better dates that are attracting collectors. Bust Half Dollars in MS63 and higher are in demand as long as they are original with no distractive toning.

   -  The 1819/8 Bust Half Dollar in MS64 is up to $7,850 Market; both the Small 9 and the Large 9 have a total of just 35 coins certified by the grading services in MS64, five having the + designation. There are only 18 coins grading higher.

   -  The 1829 Bust Half Dollar may be considered a common date but in MS65 it becomes more difficult to find with attractive toning; this week it is up to $6,825. There are 42 certified in MS65 with six additional coins holding the + designation.



---
Go to the Weekly Market Report Archive
---
---
Search NumisMedia

Keyword search all of our past and present numismatic articles

Custom Search
---
Current News and Analysis of the U.S.
Rare Coin Market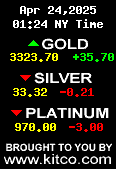 <!iframe src="http://www.coininfo.com/TickerWidgets/Narrow24HourBlack.html" style="border:0px #FFFFFF none;" name="coinInfoNarrow24HourBlackTicker" scrolling="no" frameborder="0" marginheight="0px" marginwidth="0px" height="185px" width="114px"><!/iframe>