Current News and Analysis
of the United States
Rare Coin Market


1794 Dollar Brings $2.82 Million

August 7, 2017


     Dealers may be having a difficult time selling common coins at current levels, but the two official auctions at the recent ANA World's Fair of Money Convention in Denver prove there is still plenty of money for true rarities. As expected the 1794 Flowing Hair Dollar in PCGS MS64 with the CAC sticker was the star of the Stack's Bowers Galleries auction. This phenomenal rarity brought well over the previous Market value with a price realized of $2,820,000.



Lord St Oswald-Norweb 1794 Flowing Hair Dollar PCGS MS64 CAC sold for $2,820,000 at the Stack's Bowers Galleries ANA World's Fair of Money Auction in Denver, Colorado, August 1-8, 2017



     There were many other rarities from the Stack's Bowers Galleries auction that attracted advanced collectors, one of which was the 1793 Liberty Cap Cent in PCGS AU55 CAC, capturing a high bid of $270,250. This is one of three coins certified in this grade and the only one with the CAC sticker. Bidders also had their sights set on the finest known 1853 O Seated Half Dollar No Arrows in PCGS VF35; the final bid was hammered at a whopping $517,000. Below are some of the other highlights from this important sale.


 
Date/Denomination
 
Grade
Price
Realized
1796 Draped Bust Cent Rev. 1795
PCGS MS66 RB
$235,000
1855 Three Cent Silver
PCGS PR66 CAC
$58,750
1880 Shield Nickel
PCGS MS65 CAC
$56,400
1796 Draped Bust Dime
PCGS MS63 CAC
$41,125
1918/7 S Standing Liberty Quarter
NGC MS62 FH
$39,950
1871 Seated Liberty Dollar
PCGS MS65
$47,000
1911 $2 ½ Gold Indian
PCGS PR67
$44,650
1856 $3 Gold
PCGS MS66 CAC
$64,625
1864 $3 Gold
PCGS MS67
$70,500
1879 $4 Gold Stella Flowing Hair
PCGS PR64
$158,625
1797 $5 Gold Capped Bust Right 16 Stars
PCGS AU53
$117,500
1808 $5 Gold Capped Draped Bust
PCGS MS65
$82,250
1818 $5 Gold Capped Bust
PCGS MS66 CAC
$199,750
1860 $5 Gold
NGC PR65 Cameo
$94,000
1862 $10 Gold
NGC PR64 Cameo
$94,000
1908 S $20 Gold St. Gaudens
PCGS MS65 CAC
$64,625

     In the other official ANA sale, Heritage Auctions offered an extremely rare 1943 Lincoln Cent struck on a Bronze Planchet in NGC MS62 Brown; it sold for $282,000. An infrequently seen 1851 $50 Gold Humbert with Reeded Edge 887 Thous. in NGC MS63 brought $235,000. This is one of the finest known. Below are some of the many highlights from this ANA sale.



1851 $50 Gold Humbert Reeded Edge 887 Thous. NGC MS63 sold for $235,000 at the Heritage Auctions ANA World's Fair of Money ANA U.S. Coins Signature Auction in Denver, Colorado, August 2-6, 2017

 
Date/Denomination
 
Grade
Price
Realized
1795 Large Cent Plain Edge
PCGS MS65+ RB
$76,375
1877 Indian Cent
PCGS MS65+ Red CAC
$42,300
1914 D Lincoln Cent
PCGS MS66+ Red
$152,750
1916 D Mercury Dime
PCGS MS66+ FB
$73,438
1913 S Barber Quarter
PCGS MS66
$37,600
1918/17 S Standing Liberty Quarter
PCGS MS64 FH
$117,500
1837 Reeded Edge Half Dollar
NGC SP65
$52,875
1919 Walking Liberty Half
PCGS MS67 CAC
$52,875
1921 S Walking Liberty Half
NGC MS65
$67,563
1951 Franklin Half Dollar
PCGS PR67+ DCam CAC
$82,250
1799/8 Bust Dollar 15 Stars Rev
NGC MS63+
$43,475
1892 Morgan Dollar
PCGS MS66
$49,350
1843 $2 ½ Gold
PCGS PR65 DCam CAC
$211,500
1855 S $3 Gold
NGC MS63
$64,625
1877 $5 Gold
PCGS PR65 Cameo
$76,375
1797 $10 Gold Small Eagle
NGC AU58
$135,125
1909 $10 Gold Indian
PCGS PR65 CAC
$70,500
1855 O $20 Gold
NGC MS61
$129,250
---
Go to the Weekly Market Report Archive
---
---
Search NumisMedia

Keyword search all of our past and present numismatic articles

Custom Search
---
Current News and Analysis of the U.S.
Rare Coin Market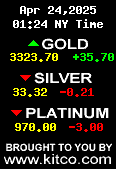 <!iframe src="http://www.coininfo.com/TickerWidgets/Narrow24HourBlack.html" style="border:0px #FFFFFF none;" name="coinInfoNarrow24HourBlackTicker" scrolling="no" frameborder="0" marginheight="0px" marginwidth="0px" height="185px" width="114px"><!/iframe>