Current News and Analysis
of the United States
Rare Coin Market


True Rarity Dominates Heritage FUN Sale

January 11, 2016


     The Heritage Auctions FUN Sale proved that truly rare coins are still heavily coveted by high-end, advanced collectors and dealers. The 1804 Dollar, 1913 Liberty Nickel, and 1894 S Barber Dime make up the numismatic "Big Three", the most desired coins and biggest draws in today's major auction market. One of the Big Three was auctioned off in Florida and when the final gavel pounded, the Branch Mint PR66 1894 S Barber Dime realized $1,997,500; it is certified by PCGS and has the CAC sticker attached. This will be the center point of a major collection and satisfies the aspiration of owning the very best.

     While the 1894 S Barber Dime was the highlight of the sale, there were several other top rarities that found new homes. The 1849 C $1 Gold with Open Wreath sold for $528,750; this is the finest known for this date and it is certified by PCGS as MS62. The list below contains some of the other highlights from the Heritage FUN Sale.



1849 C $1 Gold Open Wreath PCGS MS62 was sold for $528,750 at the Heritage Auctions FUN Show U.S. Coins Signature Auction in Tampa, Florida, January 6-11, 2016

 
Date/Denomination
 
Grade
Price
Realized
1793 Large Cent Chain AMERICA
PCGS AU55 CAC
$152,750
1918 D Lincoln Cent
PCGS MS67 Red
$42,300
1943 Lincoln Cent Bronze
PCGS AU58 CAC
$305,500
1792 Half Disme
PCGS MS62
$176,250
1794 Flowing Hair Half Dime
NGC SP66*
$94,000
1792 Disme
NGC F15
$329,000
1796 Draped Bust Dime
NGC MS65
$49,350
1805 Heraldic Quarter
PCGS MS65 CAC
$82,250
1873 CC Seated Dollar
NGC AU58
$37,600
1892 S Morgan Dollar
PCGS MS63
$64,625
1901 Morgan Dollar
PCGS MS64
$47,000
1802/1$2 ½ Gold
PCGS MS64+ CAC
$199,750
1804 $2 ½ Gold 13 Stars Rev.
PCGS AU55
$505,250
1879 $4 Gold Flowing Hair
PCGS PR64 DCam CAC
$176,250
1856 O $20 Gold
PCGS XF45
$235,000
1915 S $50 Gold Pan-Pac Round
PCGS MS64
$105,750

     Not all collectors are looking for true rarities and a lot has changed since the 2015 FUN Show. Not only is Gold lower by $120 an ounce, the coin market does not appear to be as strong as it was at the beginning of last year. Dealers spent most of this year's FUN Show trying to figure out where the market is for most series. Most dealers have been adjusting their prices throughout the past year and their inventories reflect the current market prices. For those dealers who have not yet adjusted to the new lower prices, they are having a difficult time moving old inventory.

     Many dealers have made the transition over to the modern mint market where bullion related coins seem to be the prime focus of today's coin buyers. The majority of the trading info on the teletypes consists of bullion coins and prices are very competitive. This serves the retail buyer well, and in the current economy, most buyers are looking for assets that have the lowest premiums.

     After Gold moved over the $1,100 mark last week, we begin this week with it hovering just under, at $1,097 per ounce. One ounce Proof Gold Eagles in the original package are currently trading for $1,335 among dealers. Silver bags wholesale at $11,450 with Silver at $13.88.



---
Go to the Weekly Market Report Archive
---
---
Search NumisMedia

Keyword search all of our past and present numismatic articles

Custom Search
---
Current News and Analysis of the U.S.
Rare Coin Market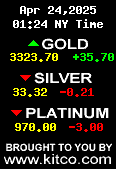 <!iframe src="http://www.coininfo.com/TickerWidgets/Narrow24HourBlack.html" style="border:0px #FFFFFF none;" name="coinInfoNarrow24HourBlackTicker" scrolling="no" frameborder="0" marginheight="0px" marginwidth="0px" height="185px" width="114px"><!/iframe>